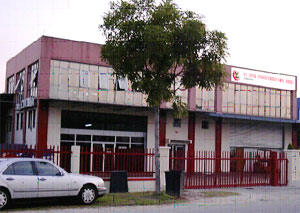 Incorporated in 1995, YL Link Industries Sdn. Bhd. has rapidly gained an enviable reputation as a reliable manufacturer of precision machining, turning, grinding, knurling components of excellent quality.

Our success is possible, as a team of professional engineers with vast experience in the industry, leads the company. We take great pride in our team of focused individuals who are capable of executing new product development - from tooling design right up to mass production in the shortest time possible. All our parts and components undergo a stringent manufacturing method and quality check prior to delivery. We are totally committed to providing goods and services of the highest quality at affordable prices by continually improving and upgrading our technical knowledge and machinery.

Our company is ISO 9001: 2008 certified.



Quality Policy



YL Link Industries Sdn. Bhd. shall strive to be a top precision part manufacturer committed to total customer satisfaction through competitive pricing, quality products and services and continuous improvement to exceed our customers' expectations.



Our Products and facilities



We are equipped with a range of reputable Japanese CNC auto lathes and high-end milling and grinding machines. Efficiency, speed, accuracy and reliability, combined with our pursuit for technical excellence, have continued to earn us the trust of our esteemed clientele in the automotive, electronics & electrical appliances, office & audio-visual equipment and furniture manufacturing industries. Our parts are used in renowned brands like National/Panasonic, Canon, Hewlett Packard, Epson, Sharp, Toshiba, Brother, Barcode Sato, Fujitsu, Samsung, Acson, York, Hitachi, Denso, Toyota, Proton, Perodua, Autoair, Fuji Photo Processing, Eita Line Communication, etc.

Our 14,600 sq. ft. factory is strategically located in the fast growing industrial area of Puchong, Selangor that is easily accessible to the various industrial regions of the Klang Valley. We have a production capacity in excess of 1.5 million pieces per month of which some 80 % of the parts produced are indirectly exported.

YL Link Industries Sdn. Bhd. welcomes serious business enquiries and constantly looks forward to collaborating with our business associates in the development and manufacture of parts and components to meet your requirements.